11th December 2020

URBAN ULTRA MT. SANA
It has been a couple of years since I was able to race in the UAE, but with my race calendar completely obliterated and a load of annual leave to take, the stars finally aligned with a handy travel corridor and a 60km Urban-Ultra race taking place near Dubai, where my parents live. Finally I could make a dent in that Maurten 320.
The journey from London was a debacle, as it is these days – enough sanitizer to give you a hangover, temperature checks, 'don't sit here!', locator forms, cotton buds forced deep, deep inside my nose, a stint locked in a hotel room with my sister – but we got to Dubai, we didn't have coronavirus and the race wasn't cancelled. A hat-trick that I didn't dream was actually possible in 2020.
It wasn't too hot, but it was a lot hotter than the UK.
This didn't concern me massively. I'm a hot weather person, but I'm never quite sure if enjoying heat means you are naturally good in the heat. I have trained for the last three years in a European climate, and in the lead up to Mt. Sana 60 all my training had been in a miserable British November. I knew I was carrying a lot of fitness from my SDW100 training, and I have a lot of experience running in very hot places – but it does take your body time to acclimatize fully. Going out cold (literally) was a bit of a gamble. Nutrition and hydration would be key.
The race started at 5am in Wadi Kub, near Ras Al Khamiah, which meant getting up at 2.45am. Naturally my sleep the night before wasn't great, but frankly my body clock was so out of whack by this point it didn't affect me in the slightest. In the heat, the more km's you can knock off before the sun rises the better. Most races start around 5–6am.
My dad drove me (thanks, Dad! Next time don't wake me up 15 minutes before we agreed I would get up) and in the car we discussed my non-existent race plan, largely because I was stressing about which head torch to use (
Bindi
vs.
Nao
). I had never run the course before and was concerned about going off too fast, burning out while it was cool and paying for it later. We decided I should hang back for the first 2-3 hours, until the sun had risen, following runners who knew the route and were more familiar with the weather conditions. Thus, I took the smaller head torch.
We got there with enough time for me to stress some more about the head torch decision, and moan about how cold it was to some friends at the start line (ironic, but not out of character). On the start line I got a few quick tips from The Godfather of running in Dubai, my old
coach Lee Harris
, one of which was: 'start getting the nutrition in early, and save yourself for the boulder field between checkpoints 6–7'. In my usual ill-prepared style, I had no idea there was a boulder field. I made a mental note.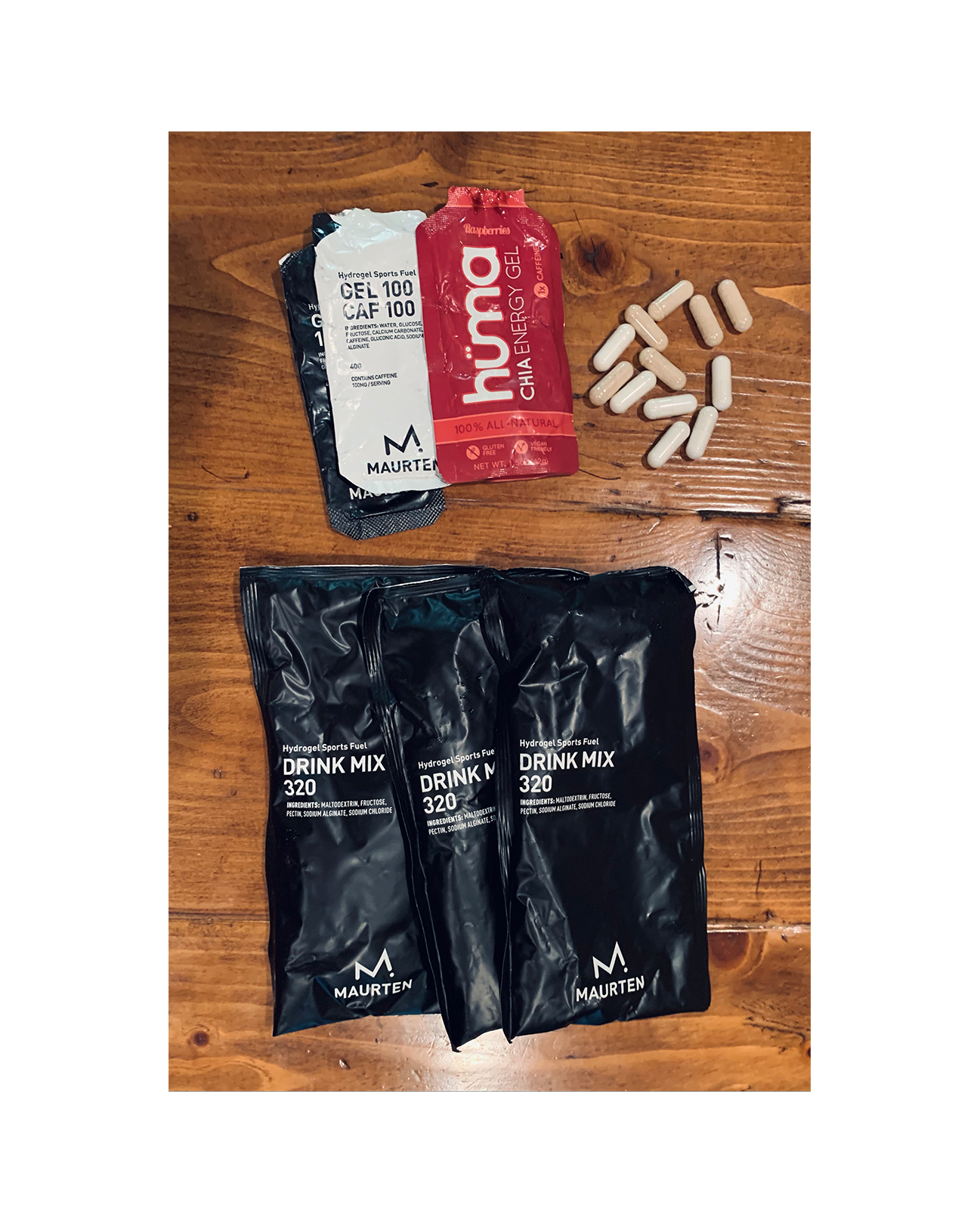 1,300 of your finest carb based calories
Sunrise, halfway down the first descent
We started with head torches, the 60k group picking their way through the rocks of the wadi bed, following in the footsteps of the 21k runners. I enjoy this bit: chasing the pack ahead and picking them all off until there are none left.

Suddenly there were none left. I was in the lead. It was very dark. This was exactly what I had said I wouldn't do.

I didn't have my heart rate monitor but feeling comfortable, decided to carry on at a comfortable pace along the wadi, and following Lee's advice to focus on nutrition. In the dark of a boulder-filled wadi, all your energy goes into concentrating on foot speed and placement, making sure to pick your feet up quickly, and place them properly to avoid tripping over or rolling an ankle. I hadn't been on similar terrain since my stint in Chamonix in early summer. Following the light of my modest (but very compact) BINDI head torch, I desperately tried to summon the muscle memory from hours of training with Lee in the wadis some three years ago, and also made a start on the Maurten. At this point I wasn't the slightest bit thirsty, since it was relatively freezing until about 8am, but sticking to the nutrition plan was a mental tactic, as I will come to later.

My last-minute nutrition plan was essentially this:
As much Maurten 320 as I could possibly stomach. I favor liquid based calories anyway, and one 320 sachet per hour is close to the maximum amount of carbs I can take on
Maurten 320 doesn't contain electrolytes. I typically never use electrolytes, even in the desert, but as I was worried how I would cope in the heat I decided to use both Gu Roctane Electrolyte capsules, and Gu Roctane BCAA capsules. My goal was to take 2 of each per hour. I get these from Xmiles

Maurten Gel 100 / Caf 100 / Huma energy to make up the calorie deficit if I stop drinking fast enough. My mono-source nutrition plan is great for simplicity, but mixing up sugar types also helps to hit your max. carb intake (320 is largely maltodextrin, Huma & Gel 100 are glucose/fructose)

I would fill up with water at every aid station to ensure I was carrying 1.5l. That sounds a lot, but in the heat you can't risk making assumptions about the temperature or the time between checkpoints. Depending where you are on the mountain, or the time of day, the temperature can change significantly.
Credit @manuel_schmidt75
At checkpoint 4 the crew marked a '6' on my bib. 'The infamous boulder field', I thought. I ran a flattish section and then climbed for a bit. The rocks were big. At the next checkpoint the crew crossed out the '6' and changed it to a '4'. It was not the boulder field.

The actual boulder field was obviously significantly larger, longer and harder than the previous boulder field, and this was my only low point of the race. A slight lapse in nutrition combined with the sun coming up in an exposed ravine led to some dizziness and nausea. I didn't give myself time to contemplate this feeling and just went straight for the calories.

I was vigilant with my nutrition throughout, filling up constantly and trying to make sure I was getting the Maurten down. Though I knew I wasn't taking on anything like 1.5l between checkpoints, there is something to be said for the mental accomplishment of sticking to the movements of your plan, even if you are starting to fall off the wagon. Deciding that I have failed the nutrition plan invites negativity. On the other hand, staying positive leads to positive decision making.

For me, winning the mental battle of race nutrition is recognising, (and overcoming ) a form of cognitive dissonance — you know what you need to do, but you desperately don't want to do it. You feel very sick and don't want to eat, but normally this means you need to eat . It is this contradictory thought process that I use to fuel races in hot climates; I won't want to pick up water so I try not to think about it, and just go through the motions anyway. Having a plan in place is key

I was alone from 36km until the finish. Knowing there were some very strong runners somewhere behind me kept me going from this point. The final 15km was the real battle. Despite the course becoming relatively flat for the final stretch of mostly jeep track or road, with no shade and the time-of-day approaching 11.00am , it was starting to get pretty warm and I could sense that I was almost reaching my limit with the Maurten 320 drinking . I stuck to the nutrition and pushed on, sensing I was getting slower, but still with no idea if anyone was behind me.
I finished first overall, and it transpired that the top four finishers were all women. YAASSS GIRLS! I am absolutely here with open arms for all strong female competition, it's so great to see more and more women starting to take on the ultra distances (and totally crushing the men).
The Mt. Sana 60 is savage. But ridiculously fun. If you love a bit of sunshine and you want a brutal, technical ultra with a lot of scrambling and gnarly downhills, I can't recommend this enough. Despite no training in the heat I managed to pull it together by racing sensibly (for me) and staying hydrated.
Huge thanks to the lovely
Urban Ultra
crew for safely putting on another incredible race. Kudos also to my dad for killing seven hours in RAK at 5am on a Friday morning.
The ultra racing community and ultra races in the UAE are fantastic. Hit me up if you want some more info.